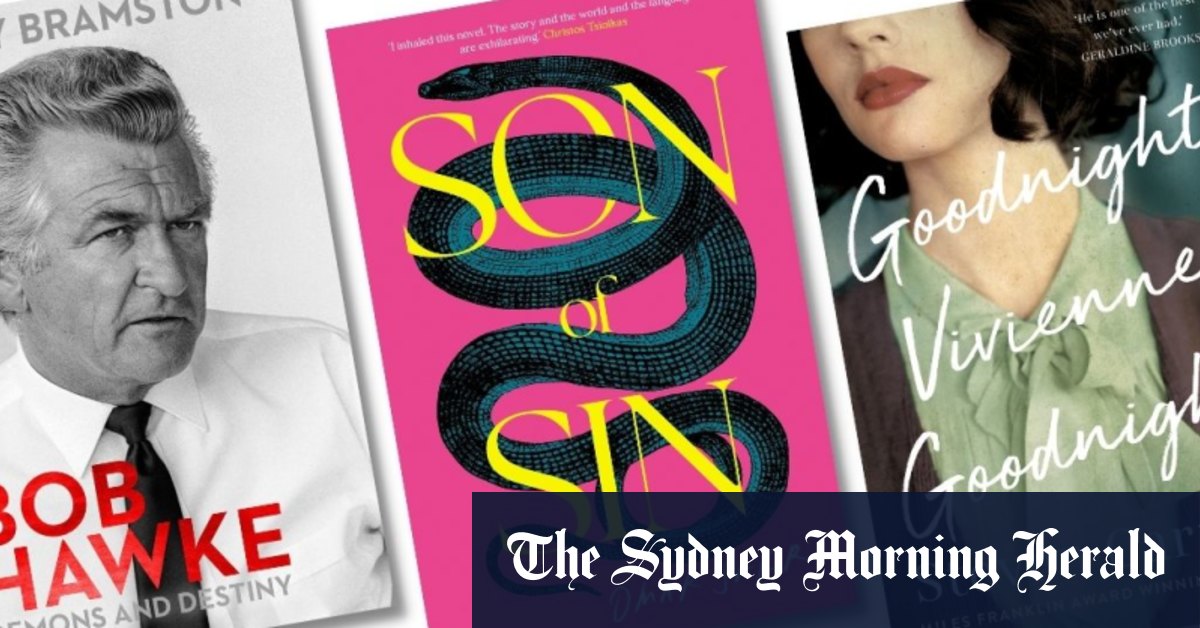 There's a lot of new releases in bookstores this month, so there's bound to be something to suit your tastes.
Two winners of the Prime Minister's Literary Award released new books. For Steven Carroll, this is the end of his quartet around the life of TS Eliot. For the poet Omar Sakr, this is his first work of prose fiction.
Non-fiction buffs can savor offerings from Julianne Schultz and Troy Bramston. And there are more mystery novels, early fiction and poetry than can be mentioned here.
The Booklist is a weekly newsletter for book lovers from book editor Jason Steger. Get delivered every Friday.
Australia's ideaJulianne Schultz
Allen & Unwin, $34.99, March 1
The founding editor of Griffith Review investigates the nature, reality and myths of this country. As she said early on, "I wanted to understand how, despite all its material successes and with more natural and institutional advantages than almost any other nation, many believe Australia has lost its moorings, morally and strategically. How we forgot our ambition to show the world what an inclusive, compassionate and caring society could achieve. An ambitious, readable and stimulating work.
Good night, Vivienne, good nightSteven Carroll
Fourth Estate, $29.99, March 2
Vivienne is the tragic first wife of TS Eliot, who was committed to a London asylum a few years after their marriage ended. Miles Franklin award-winning novelist Steven Carroll's latest book in his "Eliot Quartet" imagines a different fate for Vivienne and is based on his belief that if only she could escape incarceration and prove that she could take care of herself- even, things would be very different.
Bob Hawke: Demons and FateTroy Bramston
Viking, $49.99, March 1
Promising a portrait of the "real" Bob Hawke, journalist Troy Bramston delves into the public and private life of Australia's 23rd Prime Minister. Bramston, biographer of Keating and Menzies, spoke to friends and foes, family and fellow politicians at home and overseas. He also dug through the archives for this overall picture of the Silver Bodgie.
FishLloyd Jones
Text, $32.99, March 1
What's great about New Zealander Lloyd Jones' fiction is how different each book is. There was poetry fame bookan imaginative account of the All Blacks in 1905 about Britain and Europe, the Booker shortlisted Mr Pipmost recent give me the world and his previous novel The cage, which our reviewer called "a bold and austerely compassionate book." Come now Fishthe story of a family, its dramas and its triumphs.
Those who perishEmma Viskic
Bonnier Echo, $29.99, March 1
Mystery novel fans will appreciate the return of Emma Viskic's spellbinding Caleb Zelic for what would be the finale of her deaf private eye series. His brother Anton is in dire straits – again – and only Caleb can save him. Viskic said she was initially reluctant to write a deaf character because dialogue was crucial to her way of working. But Zelic remains a brilliant creation, and his previous three books have delighted readers and judges alike.
BoothKaren Joy Fowler
Snake Tail, $32.99, March 8
The author of Jane Austen's Book Club and the wonderful We are completely beside ourselves returns with a historical novel set in 19th century America. The father of the extraordinary Booth family was Shakespearean actor Junius Brutus Booth, whose 10 children included actors, poets, writers and, most notoriously, John Wilkes Booth, the assassin of President Abraham Lincoln.
son of sinOmar Sakr
Affirm Press, $29.99, Feb. 22
Teen Jamal Smith is a queer Muslim who struggles to find his way beyond homophobia, racism and his family's secrets in award-winning poet Omar Sakr's powerful, moving and confronting debut novel. It's wildly imaginative fiction that's based, one suspects, on an element of lived experience but transposed into the kind of work that has told us a lot about Australia since the Cronulla Riots in 2005.
Sad advertisementEnnis Cehic
Vintage, $32.99, March 1
Much has been said about this debut collection of stories by ad designer Ennis Cehic, whose family ended up in Australia after fleeing the 1992 Bosnian war. The stories are witty, ironic, pointed and sometimes metaphorical. and self-reflective. Witness the question is the mind of a young woman from Sarajevan as she weighs the options of "(a) continuing to pursue a career in advertising or (b) risking it all for her art". In Cehic's case, he stuck with both.
land of loveRobert Lucas
Allen & Unwin, $32.99, March 1
It is the second novel by Robert Lukins, after the much admired Eternal Sunday, which our reviewer called an "unexpected effect." May arrived in the eponymous Nebraska town as the beneficiary of her grandmother's will and heiress to the rickety old house by a fire-ravaged lake. Then May begins to find out more about her secret parent…
Continuous creationThe Murrays
Black Inc., $24.99, March 1
Les Murray died nearly three years ago and these 17 poems, chosen by his friend and fellow poet Jamie Grant, are the most comprehensive of those he was working on before his death. In his next review, David McCooey says the book "makes no sense of Murray's failing linguistic powers in his later years. Murray's love for the sonic nature of poetry is, as always, central to his style.
The Booklist is a weekly newsletter for book lovers from book editor Jason Steger. Get delivered every Friday.