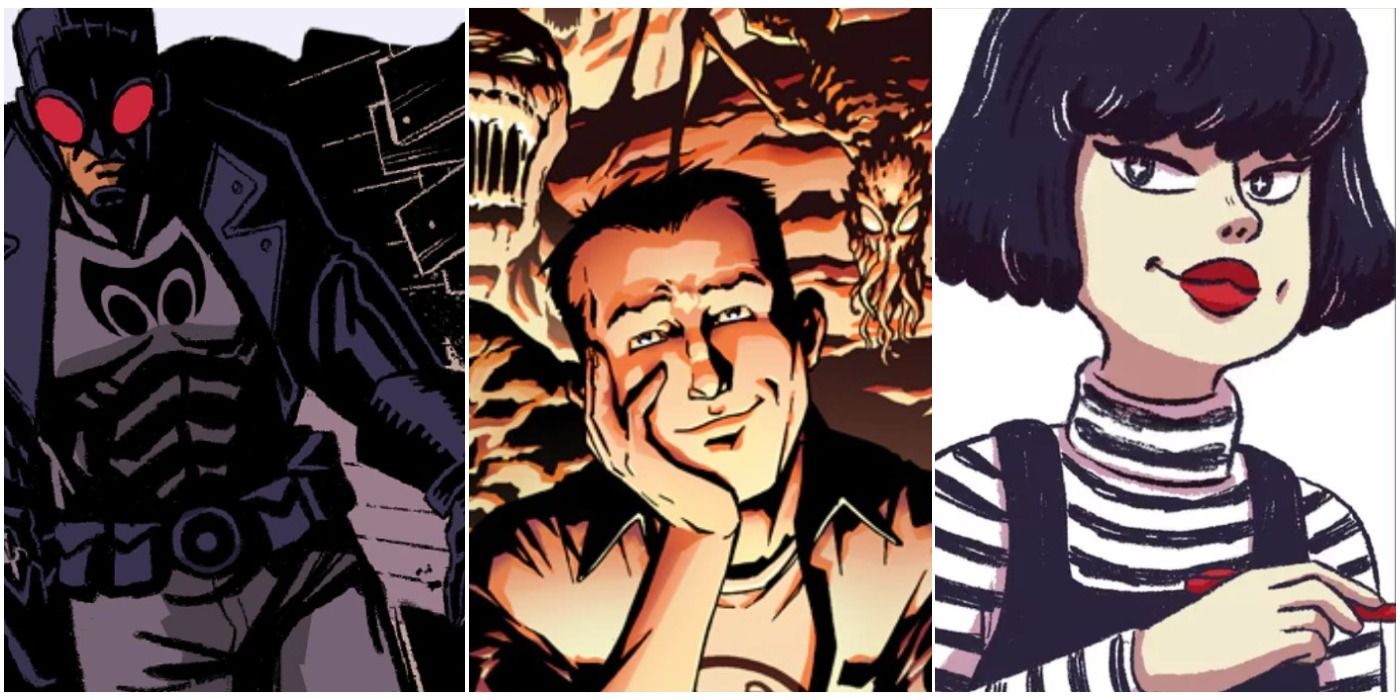 2020 has been a phenomenal year for comic book projects funded on Kickstarter, making 24% more than Kickstarter books and a total of $ 25 million. Things show no sign of stopping in 2021, with other comic book projects being added to the platform on a regular basis.
RELATED: 10 Anime You Didn't Know Have Launched
With so many Kickstarter projects, it's easy to miss a few, whether they're big-name pros or newcomers. As crowdfunding continues to attract talent from all walks of life, providing them with an unprecedented level of creative freedom (while providing consumers with the ability to nominate their price), it's worth taking a look at what Kickstarter has to offer.
7

The Owl: Osage Guardian # 1 brings Native American sensibility to the Pulp genre
Blue Turtle Comics features its 1930s hero the owl in The owl: the guardian of Osage # 1, with the support of the Osage Nation Foundation. Written, colored and written by Skyler Ammons, and edited by Dante Biss-Grayson, both of whom are Osage, the Owl (himself Osage) hunting down the Vickers Gang, who attacked and robbed the Blackmoon family. Inspired by classic and new pulp characters, The owl takes place in the fictional town of Rogers, located in the true home state of the Osage Nation, Oklahoma, and is drawn and inked by Brazilian artist Huenito. The owl # 1 is expected to reach backers by July-August 2021.
6

Wingless Comics brings diverse new voices to comics
A relatively new venture, Wingless Entertainment has already made a name for itself on Kickstarter, where it has successfully funded several comic book projects from its Wingless Comics line. Directed by Brian J. Lambert and Malachi Bailey, Wingless Comics, like Milestone before it, places a special emphasis on funding works featuring both creators and diverse characters.
RELATED: 10 Creator Owned Comics For Marvel Fans
The company's current and upcoming titles currently include Nightfall (a mini-series crossed with Constant Hustle Comics), Her and Justice, the latest of which more than doubled its engagement target for its second issue. A Kickstarter for Her # 1 will be live by September of this year.
5

Asa Wheatley's Shield Maiden sagas tell Viking tales as westerns
Sagas of the Shield Maiden Volume 2 continues the Shield Maiden saga of writer Asa Wheatley, exploring the heroine at different stages of her life. Described as a "viking western", due to the historical similarities between the Christian conversion of Scandinavia and the conflicts of the Old West, the story incorporates both thematic and aesthetic elements of the Western genre. Drawn by Katie Fleming, Alex Moore, Fabi Marques and Alex Schiltz, with a cover by Erica Henderson, the second book is available in oversized digital and physical formats. Backers can also get the first book on certain levels, as well as many of Wheatley's past comic book projects, which will ship around December 2021.
4

Jim Calafiore stars with Hellfire in supernatural comedy Ned, Lord Of The Pit
Longtime artist Jim Calafiore continues the adventure for poor everyone Ned Hume, heir to his father's little corner of hell in Ned, lord of the pit volume 2. Written and drawn by Calafiore (as well as inked and colored by him), the second volume of Ned's story promises to give the character a more solid stance in the face of his unusual situation after dealing with all the paranormal shenanigans that have acquired by inadvertently owning his father's Hellpit. brought him … while trying to stay alive. The 180-page graphic novel (along with volume 1) is available in PDF and softcover formats, with a hardcover option as an expandable lens.
3

P. Craig Russell's Symbolist Fantasies and Other Things Reprint the Artist's Original, Unmodified Work
Fans of the acclaimed artist and art lovers in general would likely appreciate the Kickstarter for Fr. Craig Russell Symbolist fantasies and other things, an art book that reprints the pages of various comic book projects Russell worked on directly from the artboards themselves.
RELATED: 10 Classic Image Comic Series You Forgot
The book includes adaptations of Russell's operas, poems, and books, some in their entirety, and contributors may even receive an original piece by the artist on some levels, as well as a recreated page of the monument. Sand seller # 50 by Russell and Neil Gaiman. The artbook will be shipped to donors in December 2021, although the original art awards will arrive around April 2022.
2

Dead Beats 2: London Calling is a music-inspired horror anthology with stories from many well-known comic book creators
Take Tales from the Crypt and imbue it with the sensibility of the UK music scene and you might just get Dead Beats 2: The Call of London. A sequel to the first Dead beats graphic novel, also funded by Kickstarter, Dead Beats 2 Again follows the otherwise unnamed 'Shoppe Keeper' which has opened a new record store in London and, as always, has some scary, music-influenced stories to share. Created by Tyler & Wendy Chin-Tanner and featuring stories of established names in comics like Ron Marz, Jody Houser, Jamal Igle, Nancy Collins and William Messner-Loebs, Dead Beats 2 would arrive in October 2021, just in time for Halloween.
1

Acclaimed editor Shelly Bond gives readers an insider's look at creating comics with dirt and grammar
Shelly Bond of Vertigo Comics and IDW Black crown fame brought his wealth of publishing knowledge to Kickstarter with Filth & Grammar: The Secret Comic Book Editor's Manual. Bond's graphic novel promises to explore every part of the comic book creation process, making it a must-have for anyone working or interested in the field. Illustrated by Laura Hole, Sofie Dodgson and Imogen Mangle (with cover by Philip Bond), the book also features advice from big names in comics, including Vertigo luminaries like Mark Buckingham and Neil Gaiman, and is available in formats digital and physical. Dirt and grammar sent to donors around March 2022.
NEXT: 10 Freelance Comic Book Publishers To Watch Out For

following
Captain America: 10 times Steve Rogers made bad choices

About the Author