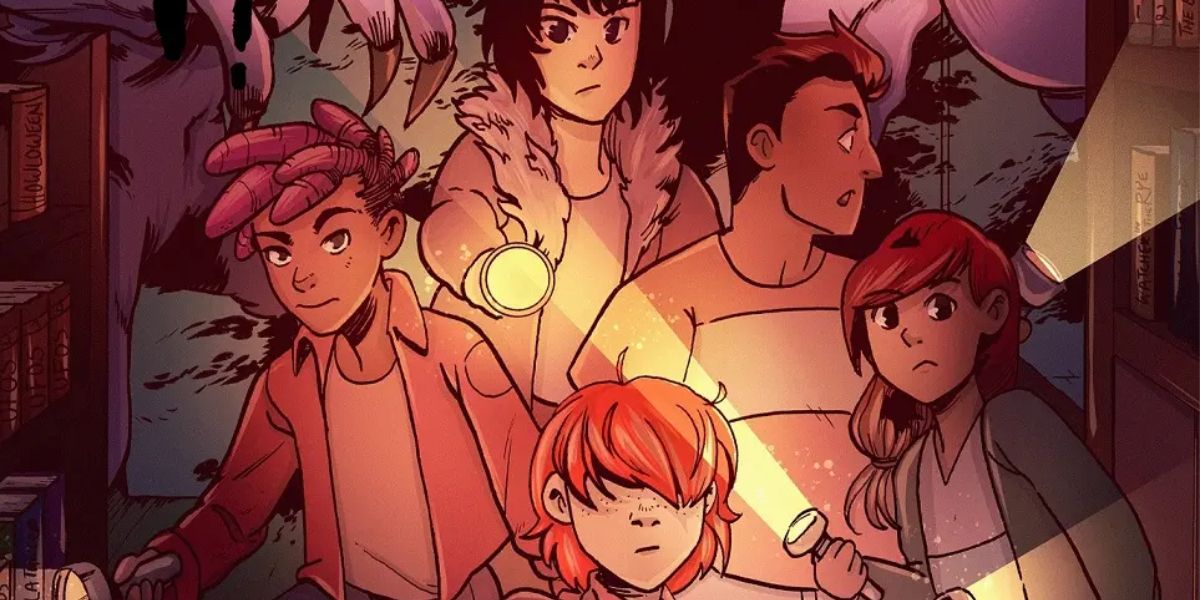 ABLAZE Publishing is launching a Zoop campaign for The Nightcrawlers, a supernatural graphic novel for all ages by Marco Lopez and Rachel Distler.
ABLAZE Publishing launched a crowdfunding campaign to The Nightcrawlers, an original graphic novel for all ages from award-winning writer Eisner Marco Lopez and rising artist Rachel Distler.
ABLAZE's campaign for The Nightcrawlers is currently online at Zoom in with a goal of US $ 6,000. There are many rewards, add-ons, and expandable goals available. As of this writing, OGN has raised $ 1,877 from 54 backers. The campaign is expected to last until Friday, December 10. If successful, the plan is to send the comic to printers by spring 2022 and start sending out rewards in the summer.
RELATED: Friday Foster Comic Strip Gets a Hardcover Collection from ABLAZE
Described as a "6×9 hardcover graphic novel for ages 8 and up", the first volume of The Nightcrawlers promises to appeal to property lovers like Goose bumps, The Goonies and Squad of monsters. The adventure comic follows "a group of child supernatural detectives" who "deal with their first case when a school friend thinks werewolves have replaced his parents."
A full summary for The Nightcrawlers reads as follows:
When things move in the night, they go back.

If you think aliens have replaced your teachers, or your neighbor might be a vampire, then there's only one group to call for help: the Nightcrawlers.

The Nightcrawlers tackle their first case when a friend from school thinks werewolves have replaced his parents. They get more than they expected when their investigation leads them in the midst of a showdown between their guardian William Jones and a former Nightcrawler for revenge. This story is about the most unlikely group of friends who come together to help others… with a scary twist!

We invite comic book fans and parents of aspiring comic book readers to help us make THE NIGHTCRAwlers a reality!
RELATED: EXCLUSIVE: Chido Comics Launches Cover Of Coquí, All-Star Champions
"As a fan of 80s movie classics with that Spielberg charm and crazy, funny horror movies like the Lost boys, Gremlins and Squad of monsters, can't wait for everyone to find out what Rachel and I cooked, "said Lopez." It's a series of graphic novels with heart that kids wanted and kids at heart need. "
"The Nightcrawlers is a real labor of love for fans of stuff like The Goonies, old Vincent Price / Peter Cushing films, and a love of urban legends and myths that we stayed up to late as kids, "added Distler. "Basically we wanted to share this love in a way that I think everyone will appreciate, with a bunch of friends who remind us of who we knew growing up, with mysteries to explore, in an imaginative setting. Marco and I have put everything we have in this book, so we hope you join in! "
RELATED: The Owl House Writer Launches New Graphic Novel on Substack
The Nightcrawlers is written by Marco Lopez and illustrated by Rachel Distler. OGN's supernatural crowdfunding campaign is now live on Zoop.
Source: Zoom in
Venom just showed Eddie Brock a gruesome warning about Marvel's symbiotes
About the Author