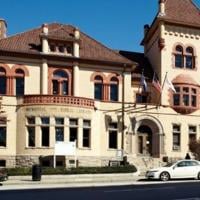 If you've been paying attention to the news lately — and frankly, even if you haven't — you've probably heard stories about books being challenged and outright banned across the country. Unfortunately, this is not new. Censorship of reading material dates back to at least the 17th century in America (hello, Puritans), and seems to have become something of a leisure activity for some school systems and organizations. In response, the American Library Association has celebrated our freedom to read with an annual "Banned Books Week" since the early 1980s in which it shines a spotlight on these books. Banned Book Week isn't until September, but given the recent spike in the number of disputed materials, now seems like the perfect time to highlight some of these titles!
One of the latest books to make headlines is Art Spielberg's "Maus," a Pulitzer Prize-winning graphic novel based on the memories of the author's parents, who survived the Holocaust. A Tennessee school board banned the title, removing it from its curriculum, due to language and other "objectionable material." It seems not everyone finds it objectionable, though: in the weeks that followed, it skyrocketed to the top of the bestseller list, was out of stock virtually everywhere, and also had a long list of reservations here at the library. School boards, beware: it seems the best way to ensure that a book is widely read is to ban it!
Kidding aside, restricting materials in schools and libraries can have a lasting and negative impact, especially on the young people they claim to "protect". Many frequently challenged books have LGBTQ content or characters, which sends a clear message that there is something wrong or shameful about being gay. Some titles that regularly appear on "most banned" material lists are Cory Silverberg's "Sex Is a Funny Word" and Juno Dawson's "This Book Is Gay." The former is an award-winning sex education comic that aims to help parents and caregivers talk more openly and effectively with children about sex, love, consent and more. The latter is described as a funny, entertaining and informative "exploration of sexuality and what it's like to grow up LGBT". Other great titles for children and teenagers on the subject of gender identity are "All Boys Aren't Blue" by George M. Johnson, "Gender Queer" by Maia Kobabe and "Melissa" by Alex Gino (previously published under the name "George").
There are certainly plenty of other controversial and menacing books in the library, from Margaret Atwood's "The Handmaid's Tale" to Nikole Hannah-Jones' "The 1619 Project." Stop by and check them out, or browse our contested material displays for more interesting titles.
Most requested books
1. "The Lincoln Highway" by Amor Towles
2. "Wish You Were Here" by Jodi Picoult
3. "The Maid" by Nita Prose
4. "A Step Too Far" by Lisa Gardner
5. "Apples never fall" by Liane Moriarty
6. "The Judge's List" by John Grisham
7. Lucy Foley's "Paris Apartment"
8. "Cloud Cuckoo Land" by Anthony Doerr
9. "The Recovery Agent" by Janet Evanovich
10. "The Match" by Harlan Coben
Most requested DVDs
1. "Belfast"
2. "Gucci House"
3. "Ghostbusters: Afterlife"
4. "Encanto"
5. "Marvel's Eternals"
6. "All Creatures Great and Small: Season 2"
7. "King Richard"
8. "The Beatles: Come Back"
9. "The Hate Game"
10. "Sing 2"
This week
MONDAY – The library will be closed for Presidents Day
TUESDAY – 10am-7:30pm, Crafternoon To-Go – This month we're doing magazine murals. Pick up your kit in Reference while supplies last; 1:00-4:00 p.m., Community Resource Advocate – Our volunteer Community Resource Advocate is available to help connect you with local services/resources. Email him at [email protected]; 2-3:30 p.m., Virtual Tech Social – We meet on Zoom every Tuesday to answer your technical questions. Prior registration is required; 5:30-7:30 p.m., Knit and Crochet Club – The Knit and Crochet Group meets on Zoom. Please email [email protected] for meeting details.
THURSDAY – 4-4:30pm, Teen Book Club – Join our Teen Book Club via Zoom to discuss a book you're currently reading and get recommendations on what to read next! For more information or to register, please email [email protected]
FRIDAY – 4-4:45 p.m., Chopped: Library Edition (Ages 7-12) – Our take on the hit cooking competition shows! Participants will receive a mysterious ingredient, return home and concoct a culinary masterpiece, then show it off via Zoom. Registration is mandatory. To verify www.westerlylibrary.org for more details or to register.
SATURDAY – 10:30-11:30 a.m., Zumba in the Park and Library – Try Zumba for a fun workout! Classes are FREE and will take place on the lawn near the gazebo (weather permitting) or in the 3rd floor terrace room (in case of bad weather).
Cassie Skobrak is a reference librarian at Westerly Library and Wilcox Park.