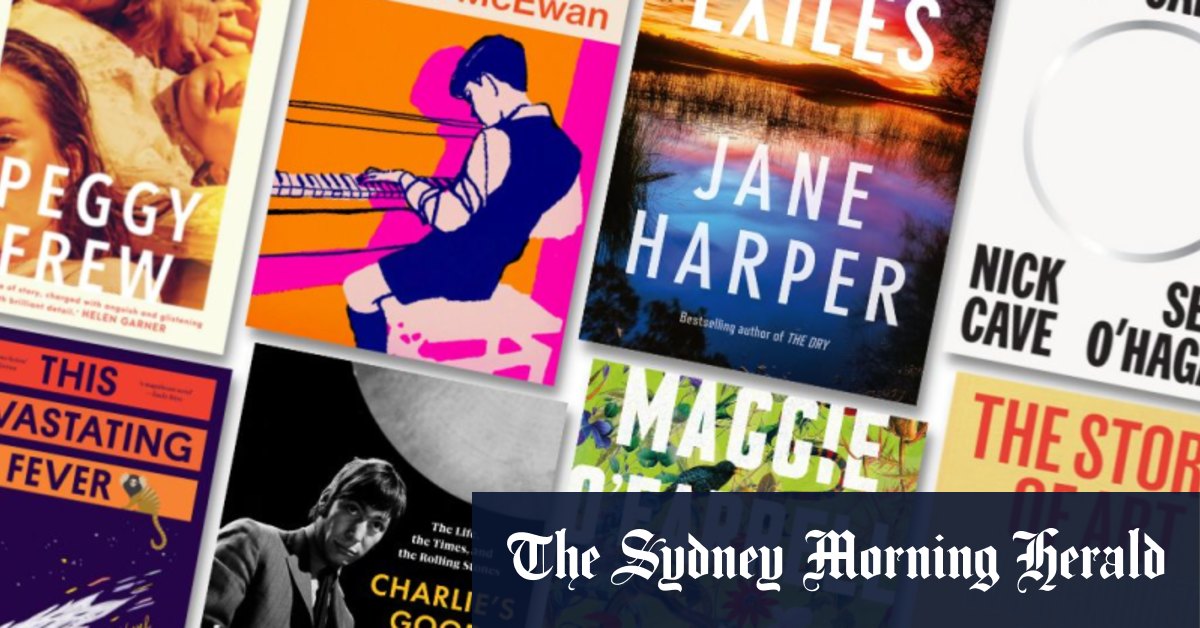 September brings spring and also – yes, that's right – the start of the Christmas book season, when booksellers do a vital and important part of their annual business.
By December, there will be a steady stream of books of all kinds – children's, cookery, fiction, stories, biographies, memoirs – filling the shelves.
This is the manna of books for a few months.
The Booklist is a weekly newsletter for book lovers from book editor Jason Steger. Get delivered every Friday.
CourseIan McEwan
Cape Jonathan, $32.99, September 15
Course has one of those classic Ian McEwan openings – maybe not as dramatic as in lasting love Where The child in time – with Roland, the adolescent hero, whom we then follow for many decades, seduced by an older woman, his piano teacher. As our impending review puts it, "It's impossible not to admire a writer of McEwan's reputation who is always risking a new adventure."
This devastating feverSophie Cunningham
Ultimo Press, $32.99, September 7
This ambitious third novel took environmentalist and former publisher Sophie Cunningham 16 years to bring together subjects as disparate as colonialism, Leonard Woolf – husband of Virginia – and the Bloomsbury circle, and through the figure of a novelist writing on Woolf today, the various issues facing our world. It's a slick and original novel that's clearly going to spark a lot of conversations.
Faith, Hope and CarnageNick Cave and Sean O'Hagan
Text, $45, September 20
What else is there to know about Nick Cave? A lot if the pre-publication of this book is to be believed, produced from hours of conversation between the deep-minded musician and his old friend, British journalist Sean O'Hagan. It focuses on Cave's inner life in the six years since the death of his son Arthur and was sparked by the lockdown and his ongoing dialogue with fans through his Red Hand Files.
The portrait of marriageMaggie O'Farrell
Tinder Press, $32.99, August 30
How to follow up on commercial and critical success like Hamnet? Maggie O'Farrell turned to the Italian Renaissance with the story of Lucrezia de Medicia, who was only 13 when she married Alfonso, Duke of Ferrara, who was twice her age. The historical record is unclear, but the suggestion is that he killed her. O'Farrell brilliantly revives Lucrezia in 16th-century Florence.
The ruleJock Serong
Text, $32.99, August 30
This is the third of Jock Serong's historical novels set around the Furneaux Islands. As our next review says, Preservation and The Burning Island were "rather historical novels, but eclipsed in ambition by this devastating work". The settlement is Wybelenna on Flinders Island where George Augustus Robinson gathered the indigenous people of Tasmania, and Serong reimagines the ill-conceived scheme in captivating fashion.
ExilesJane Harper
Macmillan, $32.99, September 20
The best-selling author of The dry brings her back AFP detective Aaron Falk for what she says is her final appearance. Visiting friends in a small town in South Australia, Falk is intrigued by the mysterious disappearance of a local woman and mother of a newborn baby, and an earlier fatal hit-and-run. As with his previous books, you will immediately find yourself hooked by the plot and the characters.
Charlie is fine tonightPaul Sexton
HarperCollins, $34.99, September 21
When Rolling Stones drummer Charlie Watts died last year, the tributes were legion and heartfelt. He was such a contrast to the rest of the band and you wonder if they would have survived this long without his constant and brilliant influence. Paul Sexton's title comes from this line from Jagger – "Charlie is good tonight, ineee?" – trapped Little Queen on the 1969 live album Get out Yer Ya-Ya!
Emperors in Lilliputjim davidson
Miegunyah Press, $59.99, September 20
Meanjin and By the road remain beacons in the literary landscape. Historian, biographer and second editor of MeanjinJim Davidson, looks at the two men who founded the magazines, Clem Christesen and Stephen Murray-Smith respectively, and how both steered the magazines for 34 years through the sometimes turbulent waters of the times, while nurturing the writers and thinkers.
The history of art without menKaty Hessel
Hutchinson Heinemann, $55, Aug. 30
The title says it all. Here are the female artists who have traditionally been overlooked in stories written by men. This comprehensive investigation by art historian Katy Hessel restores and revives the artists' reputations and puts them at the center of attention. As our review puts it, "it's a broad revisionist story of women's artistic creation, but it's also a story of how women – against insurmountable odds – succeeded in making art".
Wild flowersPeggy Frew
Allen & Unwin, $32.99, Aug. 30
It is the story of three sisters – Meg, Nina and Amber – whom we meet in their childhood, then later, at more stressful times after the youngest (the golden child long tipped for the most life brilliant) has fallen into the grip of addiction. In the Miles Franklin-selected author's fourth novel, Peggy Frew, Meg, and Nina trigger a sisterhood intervention. But can a spell in Queensland help the sisters save Amber and solve their own problems?
The Booklist is a weekly newsletter for book lovers from book editor Jason Steger. Get delivered every Friday.