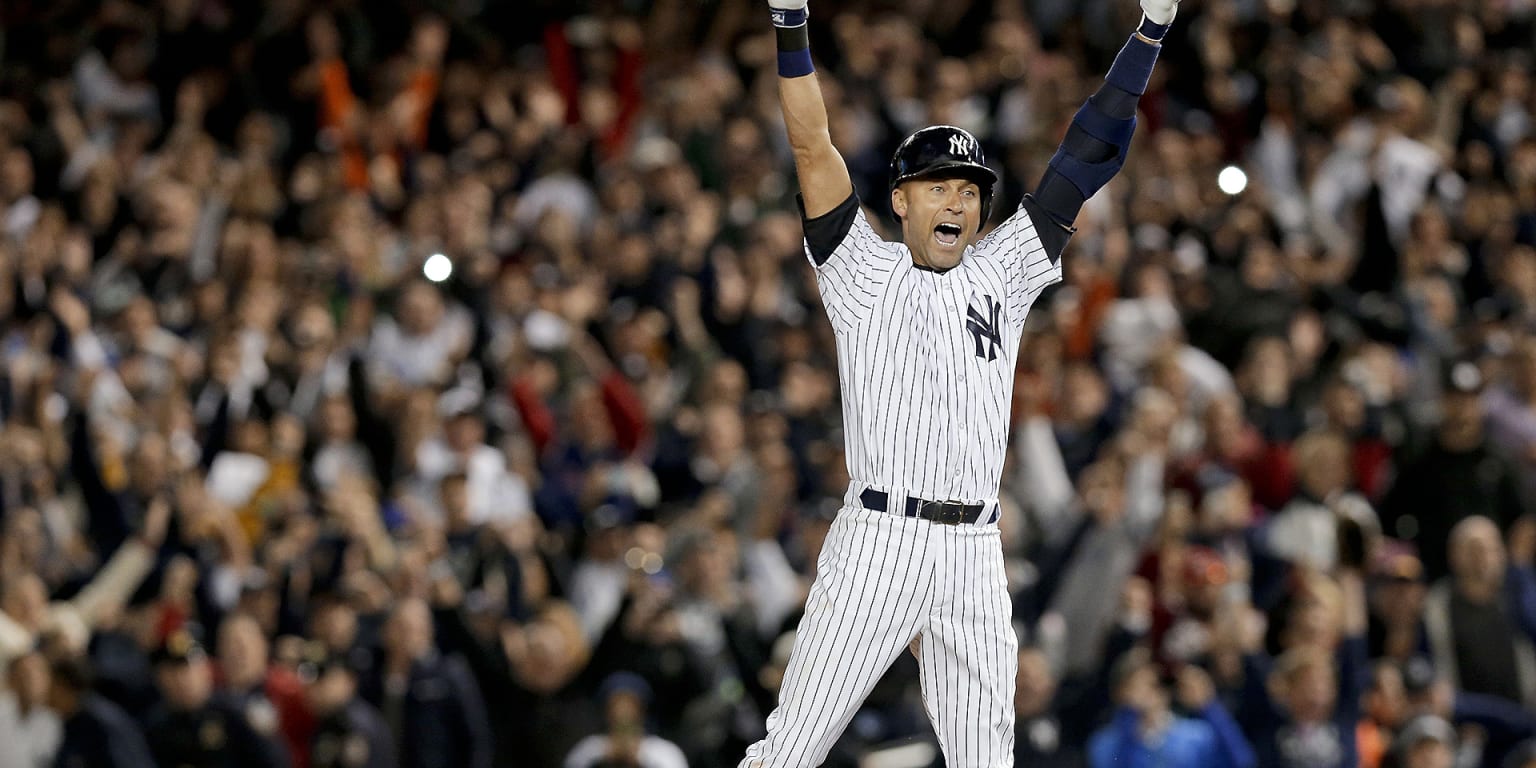 Derek Jeter finally pulls back the curtain, inviting the world to examine the private life he so closely guarded during the two decades he lived his childhood dream as a Yankees shortstop.
With ESPN and ESPN+ set to begin airing a seven-episode series, "The Captain," viewers will have the opportunity to experience Jeter like never before.
Directed by Randy Wilkins, the documentary uses in-depth interviews with Jeter, his family, former teammates and others to explore the universe around the Hall of Famer and five-time World Series champion.
"For the first time, really, I had the opportunity to reflect on my career," Jeter said. "I sat down for over 30 hours to talk about my career, from 1992 until last year. You never know if the time is right, but it felt like I was ready to do it. I didn't know what I was getting into, but I'm glad I did.
As we await the weekly episodes of Jeter's story, which will air every Thursday, here's a recommended program to whet your appetite for further investigation into his career and the events that made Jeter a fan favorite.
O'Connor's New York Times The bestseller draws on unique access to Jeter and more than 200 new interviews to reveal how New Jersey-born, Michigan-raised biracial Jeter became New York's most beloved sports figure and athlete's face without steroids.
Across 448 pages, O'Connor deftly delves into Jeter's early struggles in the Minors, when homesickness and mistakes threatened his career, to the Bronx's brightest nights and his publicized battles with "the enemy." Alex Rodriguez. Arguably the most comprehensive print synopsis of Jeter's career, O'Connor's reporting provides insight into the layers that simmered beneath Jeter's placid demeanor.
The snapshot remains frozen in time, with Jeter jumping past first base, his fists raised toward the evening sky. The captain picked up a winner in his batting final wearing the legendary stripes, a moment that couldn't have been better scripted had it been shipped straight from Hollywood.
Jeter's last hit in the Bronx didn't come in a World Series game or even a game that counted in the standings – the Orioles' Evan Meek backcourt single ended the only Yankee Stadium game Jeter has ever played with his team mathematically eliminated from the postseason dispute. But no one in the building that night would have dared to call it a meaningless game.
To appreciate just how popular Jeter had become in the public consciousness around the turn of the millennium, watch his turn at New York's legendary Rockefeller Center Studio 8H when he joined an all-star band SNL cast and delivered a strong performance as the seventh host for season 27.
The chance to welcome Jeter came in the heart of a city still scarred by the events of September 11, 2001 – title cards showed Jeter in a full striped uniform, posing in front of a digitally inserted stars and stripes flag – and few time after the Yanks were upset by D-backs in an emotionally charged World Series.
Still, Jeter showed he was ready for a laugh, even appearing on the Weekend Update episode segment to broach the important point/counterpoint topic of "Derek Jeter Sucks" with Red Sox fan Seth Meyers.
Long before Jeter's arrival, "The Boss" knew a thing or two about turning controversy into entertaining TV commercial. Steinbrenner's extremely public spats with manager Billy Martin helped produce an iconic early 1980s TV commercial for Miller Lite beer — "It's OK!" Less filling! You are fired!"
Jeter and "The Boss" revisited this playbook in 2003, after Steinbrenner lambasted his shortstop for attending a late-night birthday party during the 2002 season. titles, Steinbrenner called Jeter into his office, asking, "How can you afford to spend two nights dancing, two nights eating, and three nights partying with your friends?" Jeter responds by showing his credit card.
The acting is good, but Steinbrenner's shaky appearance in a conga line steals the 30-second clip.
Yankeeography by YES Network
With 24 hours of programming to fill each day, one of the YES Network's first projects in 2002 was to delve deep into the archives, commissioning a series of Yankeeography episodes. They told the backstories of the most important names in Yankees history, drawing on archival footage and new interviews from the clubhouse and the field.
Volume 1 was a veritable who's who of legends destined for Monument Park: Jeter, Thurman Munson, Babe Ruth, Ron Guidry, Don Mattingly and Joe Torre. YES has periodically updated the episode of Jeter over the years, and it remains in regular rotation on the cable network.
Yes, we wrote this book! Without the championships, Jeter's story wouldn't have been so compelling — his goal each year was to lift the World Series trophy, considering any season in which the Yanks weren't the last team to appear as a failure". The 2009 season was the fifth and final time Jeter would deliver, a fact that is not fully appreciated at this time.
Our 2019 plan was to reassemble the "Core Four" and figuratively reopen the new Yankee Stadium a decade later, interviewing as many people as possible who had been connected to the club. Since Jeter and others had retired by then, we've uncovered plenty of fresh details and never-before-seen anecdotes from an unforgettable season.