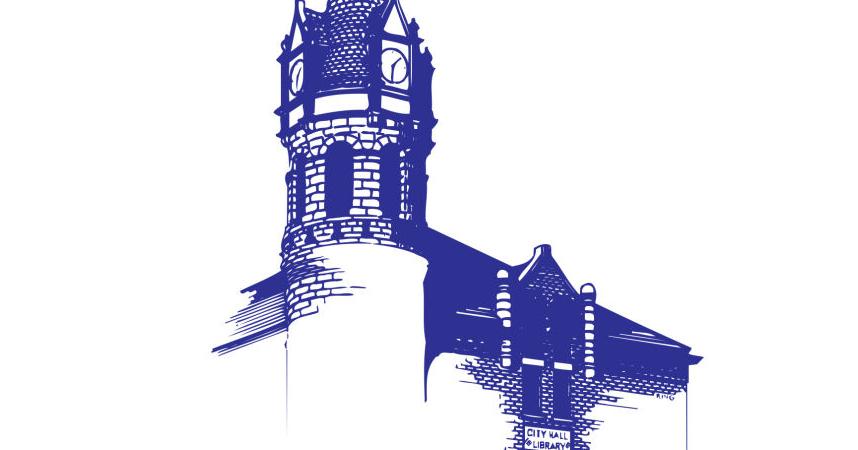 When longtime Stoughton resident and graphic designer Gail Ring retired from her job, she felt she could finally walk downtown for the first time in six years – after long hours and a drive to Sun Prairie, she kept it at work or at home.
But her relaxing jaunt to the downtown gift shops was quickly cut short when she began to notice something familiar about the coffee mugs and t-shirts promoting Stoughton – the keepsakes were adorned with one of his designs.
But Ring had never sold the rights to the image used – a depiction of the Town Hall clock tower.
She inquired of the shopkeeper who shyly admitted that she was unaware the illustration was not in the public domain and also informed Ring that City Hall was using it on their stationery.
"She didn't know me and she said 'Oh, you want to buy this?' and I said "no, I drew this" and her eyes almost popped out of her head – "what?" did you draw that? '"
But Ring, a commercial artist, had only been commissioned to draw a picture of a local band trying to raise funds to renovate the opera house circa 1982. Although the clock tower is no longer part of the city ​​hall at the time, she felt it was an iconic symbol for the group to use for its fundraising campaign.
"I told them I would love to do it, but the only way to do it was to draw it with the clock tower," she said. "The building looked terrible without the clock tower. I don't know if they have any money, they never told me.
Ring was paid $ 250 for the pen and ink drawing by the auditorium's restoration committee initially. Being so busy working out of town, she hadn't realized that the image was subsequently used for the town's gift shop merchandise, trade signage, truck logos, and stationery. .
She later found out that someone she knew claimed the job as hers and took advantage of it.
It wasn't until 1996 that Ring was paid for the extended use of her image. But, with the help of then-mayor Helen Johnson, Ring struck a deal with the city for appropriate compensation for the artwork. The city paid the artist $ 1,500 for "indefinite use of the logo."
"Got a phone call – 'Gail, this is Helen, what do you want me to do? We bought the picture. And I said, 'How much did this person charge you? Whatever they charged you, I want more. I had the correct amount for me at the time, "Ring said.
In 1992, the city had to order new flags and the cost would be the same whether it kept the "Oak Opening" logo or changed to something else, according to a 1996 article in the Hub. City officials have chosen to use the Ring logo on the city's official flag.
She was also able to come to an agreement with various gift shops to continue selling souvenirs in her image or to pull the products. In some stores, the products could still be sold as long as Ring could sell some of his other artwork in the store.
For companies that had used the artwork on their trucks or buildings, she charged $ 500 for continued use.
"People were getting rid of that logo left and right," Ring said.
Even the Stoughton Courier Hub had used the emblem in its folio in the journal, also believing it to be in the public domain. But the publisher at the time "graciously" apologized to Ring, she said.
Over the years she has received new requests to use the logo, for example for a Boy Scouts fundraiser. She would agree if she felt that it would not be used for commercial purposes.
A saving grace for Ring was that the art thief hadn't removed Ring's name from the image, which is etched under one of the bricks in the top right.
"This other person took it and plagiarized it and this person knew me and knew my name there, but left it, thank goodness," she said.
Ring had asked the auditorium's restoration committee, since she wasn't charging them much for the commission, if she could put her name with the bricks.
"In commercial art, you usually don't put your name on it – you sold it, that's all," she said. "I put Ring in the corner, but so far hardly anyone sees it."
While Ring eventually confronted the individual, she didn't do so right away because she was too upset.
"I waited a few years – probably 4 or 5 years before I saw this person – and I've been biting my lip for quite a while," she said. "I have forgiven this person. I thought, 'Lord, when I see this person, I'm going to shake their hand.' "
But that was not a scandalous thing in the city as for the most part Ring was silent. She did not ask the Courier Hub to make the plagiarism public at the time. It was not until an October 28, 1999 article about herself in the Stoughton News section of the Capital Times and the Wisconsin State Journal that she first shared the story publicly.
"No one knew the story until this article," she said.
And that Courier Hub story will likely be the last time the story is told, she said.
Ring originally became a commercial graphic designer due to a high school aptitude test that awarded her the top two scores in art and sales. After that, she decided that the career was a natural fit for her.
She also drew several other iconic artwork associated with Stoughton – a black and white Norwegian Dancers logo and a rendering of the Stoughton Railroad Train Depot.
But of all the graphics she's designed, her favorite is Honey Wagon Services. Company owner Les Swansons asked him to design a logo, but Ring was unsure of what the company was doing. Once she found out, she said she was shocked and didn't know where to start.
"I was definitely not going to design a pile of poop for the side of his truck," she said.
But she woke up in the middle of the night and grabbed the notepad and pencil she always kept by her bedside and sketched out an idea – a bee with a clothespin on its nose.
When she pitched the idea to Swanson, he loved it.
"To this day, they still have that on the trucks," she said. "Every time I see him riding in the countryside, it makes me smile. This is the best logo I have ever made. It certainly made me happy to see him.
These days, Ring, 78, mostly makes designs as small gifts for friends and family.
But last year, she published one of her biggest hits – a children's book she started in 1991. The 19-chapter book, "The Adventures of Chester (A Mouse from Wisconsin) … narrated by Chester ", presents 17 of his illustrations. It tells the story of a mouse who embarks on a great adventure starting in Stoughton and ending in Door County.
In the fall of 1990, Ring and her husband made their first trip to Door County, and over the years the beauty of the different seasons drew them in again. She took pictures and made drawings of her travels. One day, she decides to put a mouse on one of the branches of a tree that she is drawing. This mouse then returned in a series of drawings, before becoming the character of his book.
It sold its first 200 copies and has now ordered a second set of 200 more, which are available for sale from The Next Generation on Main Street.