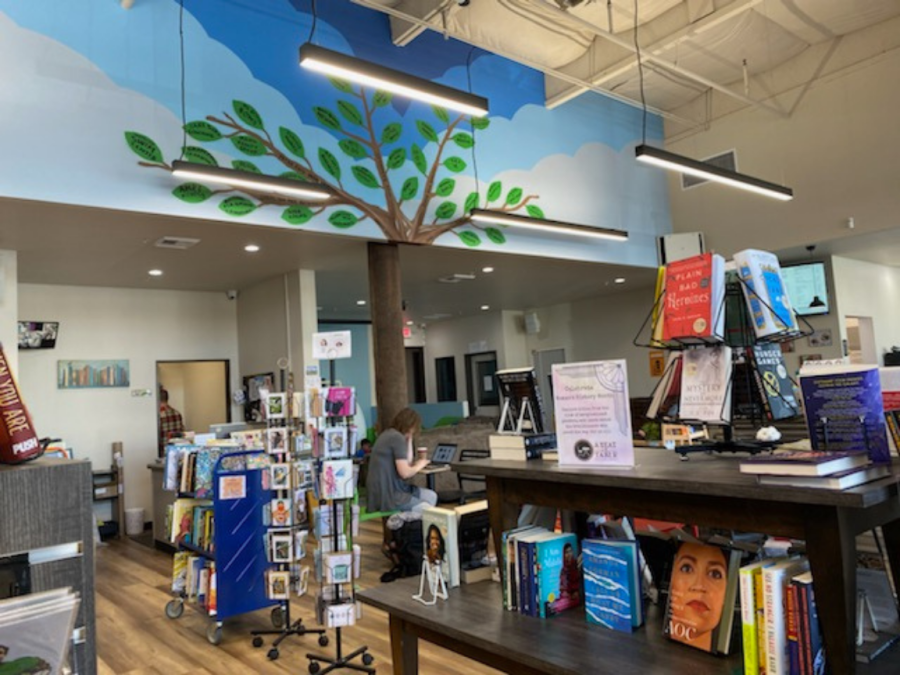 Promoting inclusivity and encouraging community participation, A Seat at the Table is a bookstore located in Elk Grove.
Starting out as a website with occasional pop-up events, co-owner Emily Autenrieth explained how the bookstore at 9257 Laguna Springs Drive Suite 130 became what it is today.
"That's always been the vision, so when I came up with this idea in early 2019, three years ago, I wanted to give Elk Grove all that experience of a brick-and-mortar bookstore cafe, but it is a big effort," Autenrieth said. "But the pop-up was a way for us to get that book-selling experience, to get into the community, to sort of establish ourselves before opening the brick and mortar that was always the goal. ."
When you first enter the bookstore you see the cafe where you can order a range of hot or cold drinks, sweets, sandwiches and snacks. Continuing into the store, there are tables for customers to sit at, a play area for children, and an assortment of books all around.
The bookstore is committed to providing a space for everyone to enjoy and feel welcome because it wants people to feel celebrated and valued, Autenrieth said.
"We are very mission-oriented. We exist to uplift the oppressed and break down patriarchy through the power of books and coffee and community," Autenrieth said. so that everyone has a place at the table.
Barista and bookseller Andrea Martinez talked about what makes the bookstore special and her experience working there.
"Oh man, I love the mission of the place. That's actually why I applied here, it's because I read this and immediately felt drawn to it. I felt connected with it. And then I met the people and it made me love him even more," Martinez said. "And the community, like how they support this place, how they connect with the place and relate to the places showed me what a great community it is."
Martinez said her favorite part of the bookstore was all the events she put on.
"My favorite part is the community events we have because there are so many different ones," Martinez said. "It's amazing that people want to work with us. It's amazing how many people show up for these events and how willing we are to coordinate these events with others as well.
One of those community events the bookstore hosts are poetry nights on the first Friday of each month. There are many more events throughout the month than you can see on A Seat at the Table's website or on their Instagram page.
Autenrieth said the bookstore has added an extra element to Elk Grove that anyone at any age can enjoy.
"We're actually doing the last one but I see so many people coming in and they're gushing or they're in tears or they're writing on Yelp about how this is all they need and they didn't get here," Autenrieth said. "Or they see each other in a way they've never seen each other."
Autenrieth also said the bookstore has a play area in a meaningful physical space for parents.
"There's nowhere else in Elk Grove where you can go and let the kids play for free while you're actually having fun as an adult," Autenrieth said.
Customer Bianca Roberts said she loves the bookstore and takes her kids to show them all the different types of books because it teaches them more about the diversity in their community.
"I've been here many times and usually look for representative books, especially for my kids," Roberts said.
Roberts explained how the diverse amount of books sold at A Seat at the Table helped show diversity and inclusiveness.
"Yeah, and I actually just bought a whole bunch of these books and gave them to my kids' school as well. Just because I know a lot of curriculums don't include diversity, stories various," Roberts said. "You know, it was Read Across America the other day and, you know, the question I had was, well, what kind of America? Because America is very diverse, isn't it? So if the ones you know, the books aren't in our schools, and how do kids see themselves portrayed as successful and where they play a part in this country, which is our country too.
Roberts said how the bookstore has impacted the community so far.
"So I think it's had a really positive impact on the community. And I think the kids in this area, especially you, are going to grow up learning a variety of stories and hearing about people from a variety of backgrounds," Roberts said. "So I think diversity is important. And if we don't have books that show diversity, then children won't learn to know others and be inclusive.
A Seat at the Table is open Monday to Saturday from 7 a.m. to 6 p.m. and Sunday from 10 a.m. to 2 p.m.