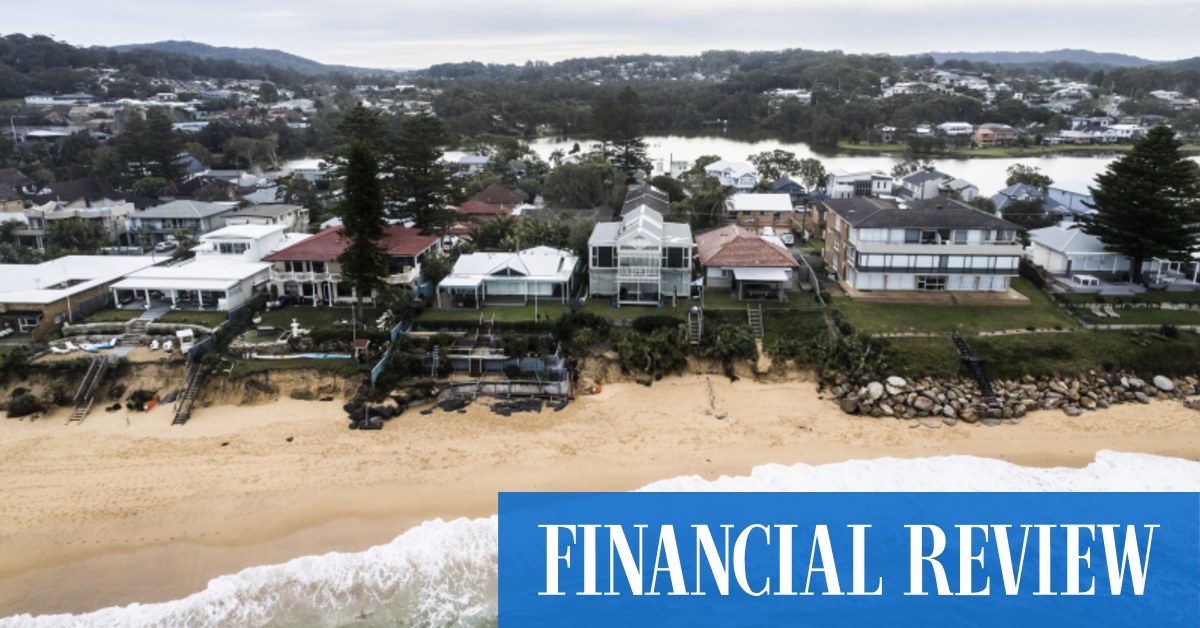 Australia had been "arguing over the wrong things", she said.
"We are behind other jurisdictions. Europe and the UK and others have had standardized household energy rating systems.
"And once you start pricing a home's energy, the markets start behaving differently.
"It will affect the value of your property – people will value a lower-end home higher than a higher-emitting home.
"People will see a market opportunity by buying high-emitting homes and converting them."
This would affect how banks lend to homeowners and how their mortgage portfolios are structured.
"When banks look at risk…especially the big banks and mid-sized regional banks in Australia, they have very, very large mortgage portfolios.
"In some jurisdictions, governments have legislated that it is illegal to sell or rent a house unless it meets a certain rating. Other jurisdictions have not been as firm as this. But they said you can't advertise a home for sale without disclosing the home's energy rating.
This would have a profound impact on the property market, Ms Bligh said.
"It doesn't take a lot of imagination to start thinking, wow, this is going to change behaviors.
"It will change the way we think about the homes we live in.
"The things we invest in, how the real estate market values ​​properties, and not just in the household sector, but also in commercial properties, shopping malls, etc.
"The impetus will not only come from government decisions, but also from financial markets, from how banks look at exposure and risk on their books.
"Once every house in their mortgage book has an energy rating, investors will expect them to start moving their book to a lower rated book."
Building ministers recently approved a new seven-star emission rating target for new homes. Climate Council modeling shows that for every new seven-star home built, the emissions saved each year are equivalent to taking a car off the road for an entire year.
"If we counted all the heating and cooling emissions saved through the construction of seven-star homes through 2030, this would represent total savings of 7.7 million tonnes; equivalent to a 12% reduction in our national residential emissions in 2019," the council said in its address to building ministers.
Ms Bligh said emissions standards for homes would also open up other opportunities, including the emergence of emissions assessors hired by banks to assess homes before loan approval.
"If, for example, you had a government program that stated that within five years every house should have an energy-efficient heat pump, there would be a demand for home manufacturing quite quickly. And that hopefully helps keep costs down.
Ms Bligh said the banking sector was lagging behind heavy industry in developing its risk and accounting models.
"I think the [banking} sector itself would say that measurement and activity and thinking about the mortgage book is much more immature than it is about very heavy industry.
"They've had lots of pretty deep and difficult but ultimately productive discussions with customers."
She noted the prudential regulator APRA had conducted a climate vulnerability assessment across a number of banks and would be publishing the results of that in December.
"That climate vulnerability assessment was done on the ag [agriculture] part of the book and mortgage book.
"It's very difficult for banks to do that. [assessment] when there are no recognized standards established by the government. So everyone is trying to use whatever tools they can take from European jurisdictions and trying to modify that for an Australian context.
"We'll get past that, but right now it's a bit of a complication."
Speaking at the same conference, Industry Minister Ed Husic recommitted to establishing battery manufacturing capacity in Australia, confirming that the government would establish an industry growth center to help stimulate investment.
"The demand for batteries is expected to increase up to tenfold over the next decade; that's more than the growth of solar PV over the past decade," Husic said.
"This is an area with enormous potential for the technology sector. By 2030, battery industries are expected to contribute $7.4 billion a year to the Australian economy and create up to 35,000 jobs.
Former Telstra chief and chairman of accounting group Xero David Thodey expressed confidence in the Australian economy's ability to decarbonise, but said it would take a huge effort.
"It's not the money, its resources, its supply chains. Can we source everything we need to reach 43% by 2030? I think we can, but it won't be elongated misery. It's going to be very difficult.
Mr Thodey said he was confident Australia could seize opportunities such as battery manufacturing to reinvent the country's manufacturing base.
"If we play to our strengths, not low labor costs, but smart, capable people using technology for innovation…that's where we should be playing as a nation." .
It actually gives us the opportunity to reinvent ourselves.