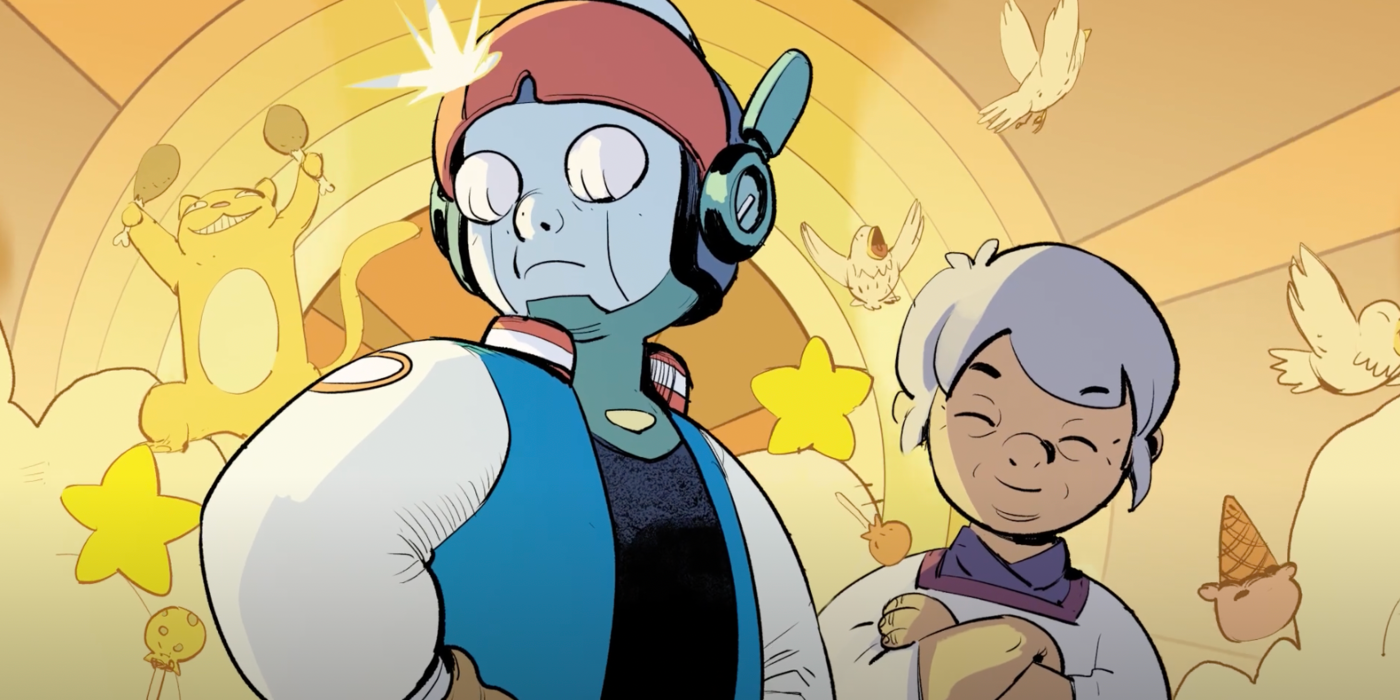 CBR has the exclusive premiere of a trailer for Everyday Hero Machine Boy, a new mid-level graphic novel from Skybound Comet and Image Comics.
Skybound Comet and Image Comics invite everyone to fuel their hearts with Machine Boy Everyday Heroa new graphic novel released in September.
CBR has the first exclusive trailer for Machine Boy Everyday Herowhich comes from Tri Vuong (the next LEGO NINJAGO: Garmadon comedy series) and Irma Kniivila (Year of Dog). The trailer, which you can watch below, shows the young robotic hero embarking on a number of different tasks, including saving his high school, protecting his town from impending threats, and eating copious amounts of spaghetti.
RELATED: Image Comics Celebrates the 30th Anniversary of Its First Titles with a One-Shot Special
Machine Boy Everyday Hero marks Skybound Comet's first original middle-aged graphic novel, as it is aimed specifically at young adults (12+) and middle-aged readers (ages 8-12). The plot synopsis reads, "It's a bird, it's a plane, it's…Machine Boy! When Machine Boy falls from the sky in the cursed city of Mega 416, he leaves a wake of destruction on his way… to karate. Grandpa is able to light his heart. Now Machine Boy wants nothing more than to become a hero! Let him fight giant insects in the under school floor, rescuing cats from trees, or making the perfect spaghetti sauce, Machine Boy is always looking for the best way to help others, but when his heart begins to interact dangerously with other debris from outer space, Machine Boy wonders if he can be a power for good after all. Tri Vuong and Irma Kniivila create a fun and engaging adventure for all ages that asks – can you override your own programming?"
"machine boythe eccentricity and charm of [are] undeniable", Francis Manapul, who has worked on a number of DC titles like the flash, bat girl, Detective comics and more, said of the graphic novel. "Their minimalist approach to storytelling elicits a wide range of emotions accomplished only by creators who are at the top of their game. In the span of a single chapter, I laughed, choked back tears, and then I cheered on this adorable android. This should be perennial reading for readers of all ages."
RELATED: Marc Silvestri Brings the Heat With Hard-hitting Metal Society Variant Cover (Exclusive Preview)
Machine Boy Everyday Hero joins a number of other upcoming Skybound Comet launch titles. Clementine Book 1by award-winning writer and artist Tillie Walden (Spinning, On a ray of sunshine), launches in June. It is followed by heir to the sea serpent tome 1 by Mairghread Scott (Star Wars: Resistance, guardians of the galaxy) and Pablo Tunica (TMNT Universe) in October. Previews for Machine Boy Everyday Hero, Clementine Book 1 and heir to the sea serpent tome 1 will all be available in Clementine #1, which comes out on May 7 for Free Comic Book Day.
Machine Boy Everyday Hero out in comic book stores and on digital platforms – including Amazon Kindle, Apple Books, comiXology and Google Play – on September 7 and everywhere the books are sold on September 13 by Image Comics and Skybound Comet. To visit celestial comet for pre-order information.
KEEP READING: The Walking Dead Creator Negotiates for GI Joe, Transformers Publishing Rights
Source: Skybound Entertainment
Batman's Family Line Will End For A Heartbreaking Reason
About the Author