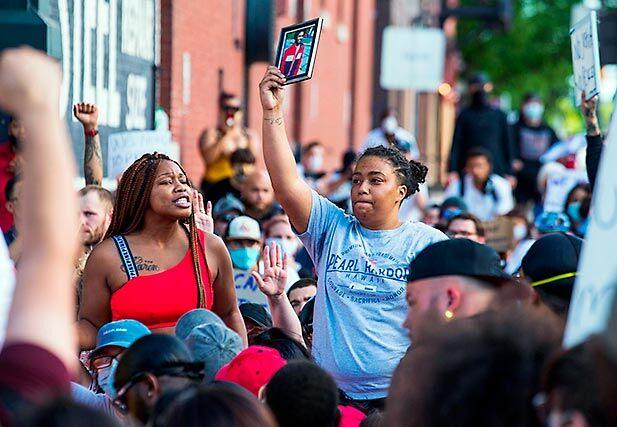 A nationally recognized New York-based journalist is looking for a publication that will feature in-depth stories about the late James Scurlock and Jake Gardner.
In September 2020, Gardner, a white man, was charged with four felonies, including manslaughter, after he shot Scurlock, a 22-year-old black man.
The incident happened outside a bar owned by Gardner on May 30, 2020, during the Black Lives Matter protests in Omaha. Gardner had said he shot Scurlock in self-defense.
Gardner committed suicide in September 2020 in Hillsboro, Oregon, days after an arrest warrant was issued against him.
The murder of Scurlock and the suicide of Gardner gained national attention and intensified conversations about racial injustice nationwide.
The media have been digging into what happened the night of Scurlock's death and the lawsuits that followed. But New York-based journalist Joe Sexton delves deeper into each man's education, criminal past, and occupations in a book he's been working on for about a year.
The book has a connection to Norfolk, as the publication will include a detailed account of an armed robbery near the town center in December 2014. That day, Scurlock and three others entered a residence armed with guns and demanded money, drugs and cell phones.
Scurlock, then 16, was convicted of burglary in 2015 and sentenced to 3 to 5 years in prison.
Sexton and fellow New York reporter John Jordan filed a petition in August asking for a copy of the Scurlock Exceptions Bill. The list of exceptions includes testimony from each of the Scurlock court hearings.
Sexton and Jordan appeared in Madison County District Court via Zoom on September 24 to seek permission to acquire forensic copies of the Scurlock case.
Judge Mark Johnson, who sentenced Scurlock to jail in 2015, allowed the two reporters to obtain the copies. Madison County District Attorney Joe Smith did not object.
Sexton has said he hopes to give a full and definitive account of the tragedy that claimed Scurlock's life last year, as well as the aftermath that led Gardner to take his own life. Sexton is working with the families of the two men to give readers a full perspective on the two, he said.
"As part of that, James Scurlock and Mr. Gardner have criminal records attached to them," Sexton said. "… It would be extremely useful and informative for the public to see the report (of the present investigation) on young Mr. Scurlock." "
There are a number of sealed exhibits outside of the file that Sexton and Jordan hope to gain access to, which Smith said would be difficult to do.
In the Madison County case involving Scurlock, he was one of four gunmen who raided a home in Block 100 of Madison Avenue on December 1, 2014, and demanded marijuana, money and drugs. mobile phones.
Scurlock's co-defendants in the theft case were John Harden, Pierre Evans and Rochester Pruitt. Harden received the longest prison sentence of the four (10-15 years) and Scurlock received the shortest sentence (3-5 years).
Scurlock was on the run to Norfolk from Omaha at the time of the theft. He was also convicted of assault and battery in January 2019 and third degree assault in February 2020.
Sexton is also digging into the criminal past of Gardner, who was convicted of multiple assault, theft, disturbing the peace and reckless driving before the May 2020 shooting.
Sexton worked as a reporter and editor at The New York Times for 25 years, where he and his team won the Pulitzer Prize twice. He then spent eight years as an editor at ProPublica, a New York-based independent nonprofit media outlet.
The request for access to documents in the Madison County case of Scurlock was made purely to gather facts and aid in the search for the non-fiction book planned by Sexton, Jordan said.
"It is intended to promote the public interest and is not made to harass anyone or for other harmful purposes," he said.