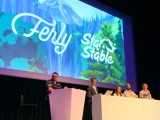 As Cartoon Forum kicks off in Toulouse, female characters and women in animation are making headlines.
In addition to trends related to environmental issues and diversity, the number of projects featuring strong female characters this year is noteworthy, noted festival director Annick Maes in her opening speech.
French prodcos Method Animation and Caribara Production are gearing up today to present the magic witch detectives (26 x 26 minutes) and the musical Billie and the Rockets (52 x 13 minutes) respectively. witch detectives follows a trio of best friends as they juggle school, mystery solving and sorcery. billy focuses on the titular young girl who starts a party with a group of aliens.
The 2D animated tween series Star Stable: Mistfall, which is based on Ferly's equestrian-focused IP, was among the day's inaugural pitches. During the presentation of the 26 x 22 minute series, screenwriter and showrunner Alice Prodanou (Total DramaRama) said that her own experiences growing up inspired the writing of the series' female protagonist's coming-of-age struggles.
"When we made a graphic novel [for this IP], Star Stable specifically wanted a female writer and illustrator," says Tuomas Sorjamaa, vice president of sales at Finland-based Ferly, which co-produces the series. "[Star Stable] is very centered on women. It's unique for a gaming company to have more than half of its workforce female.
A 100% female team from Parisian MIAM! the animation (pictured) also took the stage to present Lowercasea 52 x 11 minute CG animated series about a spunky girl doll named Ollie.
Hanna Mouchez, founder and CEO of MIAM, says the number of women in production and distribution is on the rise and she now hopes to see a similar increase in the number of female directors. "When it comes to directing and art direction, we still have to go out and really look for women," she says. Children's screen.
MIAM called on two directors for the 2D animated film Goat Girl, a co-pro with Ireland's Daily Madness, about an eccentric 13-year-old who was raised by goats. "We [also] have a developing series called Furiouswhich is made by women," adds Mouchez.
While describing the growth of international co-professionals in the animation sector in Spain, María Peña, CEO of ICEX in Spain, said it was important to continue creating opportunities for women in the middle of the boom. "We need to create a special space for female talent," said Peña Children's screennoting that she thinks there is still work to be done on the international stage to get more women involved in key roles in anime series.
Buyers have taken note of the increase in female talent behind the camera. "I'm particularly excited to be showing the large number of projects from a female perspective and featuring strong female characters," said Jo Boag, executive producer of animation at Australian pubcaster ABC.