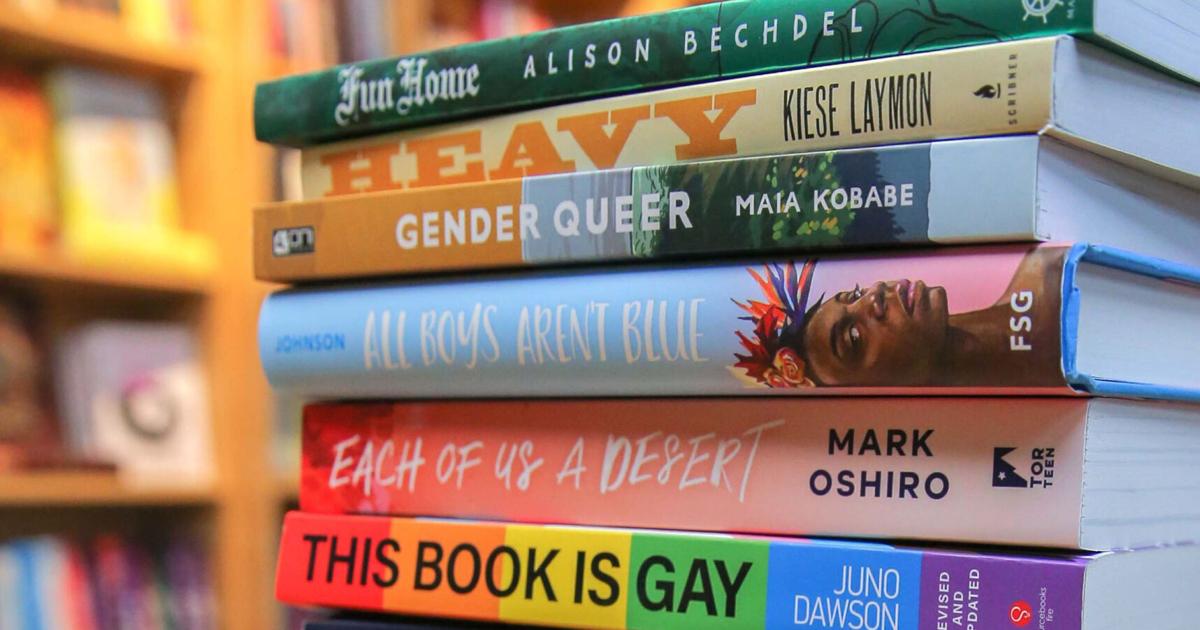 KIRKWOOD — About 15 parents and students spoke out on Monday against the Kirkwood School District's recent book bans, including a comic book adaptation of George Orwell's "1984," the cautionary tale of mind control by the government.
At least 114 book bans were enacted in St. Louis schools this fall in response to a new state law banning "explicit sexual material" — defined as any visual depiction of sexual acts or genitalia, with exceptions for artistic or scientific significance – provided to students in public or private schools.
Kirkwood administrators banned 14 books in response to the law, the third of all school districts in St. Louis County after Rockwood and Lindbergh. Eight county school districts left their library collections unchanged. The neighboring school district, Webster Groves, has banned 11 books, including several crossovers on Kirkwood's list, such as the graphic novel version of "The Handmaid's Tale."
Kirkwood's list of banned books includes mostly graphic novels but also non-fiction such as "Annie Leibovitz at Work" about the famous photographer; "The Human Body in Action", a 1999 anatomy textbook; and "Gender Danger: Survivors of Rape, Human Trafficking, and Honor Killings."
Table: Most banned books by area school districts
| Book | Num. districts |
| --- | --- |
| "The Handmaid's Tale: The Graphic Novel" | 12 |
| "Gender Queer: A Memoir" | 8 |
| "Guardians" | 6 |
| "Flame" | 5 |
| "The House After Dark" | 5 |
| "The Sun and its Flowers" | 5 |
Several speakers at Monday's school board meeting said they didn't want political pressure to dictate what materials are available to students. There were no comments defending the bans.
"As parents, we were shocked and disappointed to learn that our school district is banning books from our school libraries," Meredith Byers wrote in a comment read to the board. Byers said that as a medical professional, she was particularly disappointed with the anatomy book, which she described as accurate and appropriate.
Besides the 14 banned books, Kirkwood parents can refuse any titles they don't want their child to borrow from school libraries. They also have online access to school library book lists and records of books their student has checked out, said Bryan Painter, Kirkwood's assistant superintendent for curriculum and instruction.
Two school board members said they disapproved of district leaders' banning of the books and called for a closer look at the titles.
"The most important thing is that kids feel seen, that they feel heard and that they feel safe," said member Judy Moticka. "The thought that we would take away a child's ability to find themselves, to understand themselves, to feel safe, is wrong. As a district, we need to do better.
But board chair Jean Marie Andrews said the decisions to ban the books dealt with "sexually explicit content depicting pornography".
"It's not as simple as many would like to make it out to be," Andrews said. "Stop talking about representation and book bans and treat it for what it really is. We can represent all students without sexualizing them.
The ACLU of Missouri issued a statement last month saying that school library books fall within the exemptions of the state's new law because they have "already been reviewed against well-established national standards for selecting materials that take into account the whole piece".