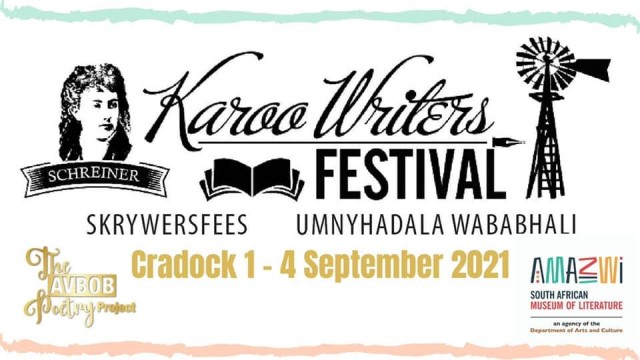 Performances, films, live music, a street market and a book published by Rhodes University will all be featured at the 2021 Schreiner Karoo (SKWF) Writers' Festival which takes place on September 3-4.
As part of the SKWF program, Chris Marais and Julienne du Toit will discuss their new book, published by Rhodes University. Flanagan's Journey: Extraordinary South African Women presents 45 scholarship holders who received the Patrick and Margaret Flanagan scholarship between 1985 and 2020 for postgraduate studies at top foreign universities.
Isobel Dixon de Graaff-Reinet was one of them. Now based in London, Isobel is one of the best literary agents in the world and represents Deon Meyer along with many other South African authors.
Marais and Du Toit are photojournalists, writers, editors and educators operating in Cradock, Eastern Cape Karoo, South Africa. They will also present their latest book Karoo routes 2.
An SKWF favorite, Nose week editor-in-chief Martin Welz will report on uncovering the truth and Maeder Osler of the Hantam Community Trust will read anecdotes from a unique community newspaper.
Pop-ups by mime Richard Antrobus and a quartet from the Iva collective (including Sam Collett and Buntu Duku) will add a dose of adrenaline.
The "Arts Town Cradock (ATC)" project will also be presented at the event, the result of the maturing collaboration between SKWF and the founding sponsor, the South African Museum of Amazwi Literature in Makhanda. Representing the ATC team, Lisa Ker will present ATC as an inclusive and healing initiative using the arts to improve community life and promote economic activity through tourism.
Amazwi Director Beverley Thomas will explain the modernization of the Schreiner House grounds and the new community and performance facilities approved for construction. Schreiner House is Amazwi's Cradock satellite and it has been agreed that this historic site will serve as a hub for ATC.
The SKWF gathering will then convene for a panel discussion on how best to promote literary tourism and attract visitors to important sites. Melissa and Ian Sutherland of Vindigo Travel and Dean Allen will lead the discussion.
"The personalities, the anecdotes, the sites, the artefacts and the memorabilia attract all visitors. All of this has a rich Schreiner legacy, "said Lisa Ker.
In support of this point, Schreiner scholars Professor Paul Walters and Jeremy Fogg will recount the events of August 15, 1921 when Schreiner's remains were moved from Cape Town and reburied at Buffelskop. Amazwi's Marike Beyers will offer insight into Schreiner family life via personal letters in the museum's collection.
WRITING FOR THE FILM
The Friday afternoon program is devoted to film writing. Dorothy de Kok (in conversation with Bridget Harrison) will retrace her steps from that first online course to the acceptance of her screenplay by a director and now her first half-hour mini-film ("The Tip") on Youtube.
Award-winning screenwriter Cate Woods Hunter will share some tips on how to develop fictional characters. The supremo writer of thrillers Deon Meyer will speak about the passage of the novel to the scenario and his fascination with the cinema.
A Saturday morning street market connects visitors with more locals while the main program features another market of ideas.
In a second appearance, Deon Meyer will chat with Jurie Taljaardt about his daily life and work. Speaking from the heart, Tony Jackman will explain what the Karoo means to him. Journalist Sue Segar will ask Ian Sutherland about the novel writing process.
COURSE OF STUDY
Leading the main program from September 1, 20 educators will participate and implement an innovative fusion of creative arts and life skills during a two-day think tank on breaking down divisions between programs in creative arts and life skills and their fusion into more relevant fields. of experience.
"Poetry is the most immediately useful of the creative arts for this experience and, appropriately, the think tank is generously supported by The AVBOB Poetry Project," said coordinator Melina Smit. She is the Senior Education Specialist for Creative Arts and Life Skills at the Department of Education.
AVOBB CEO Carl Van der Riet expressed his pleasure to be able to support this innovative event. "The initiative demonstrates remarkable ingenuity and creativity, as well as an original and integrated approach to education that fosters vital life skills and creative thinking. The AVBOB Poetry Project values ​​the thoughtful and intelligent approach to education that underpins this endeavor. We are happy to contribute and participate in the think tank through our project editor, Liesl Jobson, "he said.
"In the short term, we hope for a surge of registrations from the region for the fifth AVBOB poetry competition. In the long term, we expect to see many more creative thinkers emerge from the youth of the region who could, in turn, apply this holistic approach to find meaningful solutions to their unique challenges, "he concluded.
The AVBOB Poetry Competition opens to poets writing in all 11 official languages ​​on August 1, 2021 and ends on November 30, 2021. Participants are encouraged to register now on the website – www.avbobpoetry.co.za .
For more general information, please see the Facebook page and SKWF website: www.karoowritersfestival.weebly.com
Source: www.karoowritersfestival.weebly.com

Help us raise funds so that we can give all of our students a chance to access teaching and learning online. The Covid-19 has disrupted the education of our students. Don't let the digital divide put their future at risk. Visit www.ru.ac.za/rucoronavirusgateway to donate