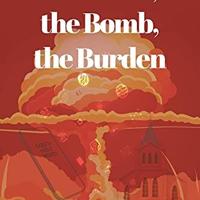 John Eash, of Windber, spent decades as a minister in the Church of the Brethren, and during that time he contemplated the mysteries of life, the universe, and all, which led him to write a new book about his ruminations, "The Bible, the Bomb, the Burden.
Its first publication came out late last year and consists of reflections on faith, society, technology and the future.
"People may have thought about it, but nobody wrote it down," the 90-year-old said.
He started writing "The Bible, The Bomb, The Burden" about seven years ago after talking to friends about his thoughts.
"They said, 'You have to write a book,'" Eash said.
His story is divided into three parts, the first focusing on his belief that Christianity is the perfect truth, followed by what he describes as the church's disconnection from science in the atomic age and ending with the way to reintroduce the faith to a new generation.
"A huge challenge facing the church today is how to share the faith with young people in society as generational gaps widen," the back of the book says.
"The author argues that believers are not heard because we don't understand modern language. In a world of electronics, gene splicing, and artificial intelligence, the gospel message is contained in a language that leaves no room for the changes that have reshaped civilization.
Eash said the book was not intended to be read as a novel – readers can skip over and read sections out of order.
He also said that it contains no answers to resolve the issues raised in the pages, but seeks to start conversations and bring people to the table to resolve their differences.
Throughout the writing process, Eash's daughters helped him accomplish the big task.
They edited the pages and provided comments, while her sister helped with typing.
"It's pretty exciting," Eash's daughter Johanna Blough said. "My dad is 90 and he has a book on Amazon."
She added that every time she is with him she learns something.
As the piece fell into place, Eash began looking for a publisher and found an advertisement for Christian Faith Publishing.
He contacted the company and after some correspondence they agreed to print his book.
"It was a relief that it was released," Eash said.
Although it's a lot of work, he considers the publication worthwhile.
Blough joked that no one was allowed to visit Eash in the mornings while he was working on the book.
The afternoons were fine, but the mornings were for writing.
"The Bible, The Bomb, The Burden" can be purchased at Amazon, Walmart, AbeBooks, and several other online retailers.
Joshua Byers can be reached at 814-532-5054. Follow him on Twitter @Journo_Josh.
Joshua Byers is a reporter for The Tribune-Democrat. He can be reached at 814-532-5054. Follow him on Twitter @Journo_Josh.