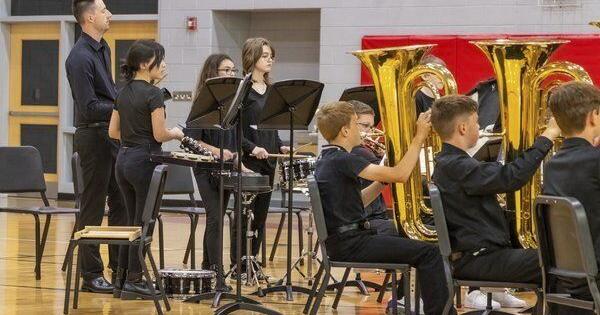 According to a Facebook post from Model Laboratory School, several elementary school students have been recognized as winners and finalists of the 2022 KET – Kentucky Educational Television Young Writers competition. Students faced stiff competition this year with over 1,200 applications from across the Commonwealth.
Winners and finalists included:
• Brayden Spillman (Year 1), 3rd Place, "The World's Greatest Secret Mission – A True Story of WWII" – Graphic Novel
• Anishka Sherigar (Grade 1), 3rd Place, "What Can You See" – Illustrated Story
• Dawson Abney (Grade 2), 3rd Place, "The Diary of a Glamorous Dog" – Short Story
• Sara Sokolowski (2nd year), finalist, "ONE, TWO, THREE, unicorns can be" – Poetry
• Annistyn Flynn (Grade 3), Finalist, "Poppy with No Friends" – Illustrated Story
• Abby Toutant (4th year), finalist, "The Fashion Show" – Illustrated History
• Avnita Sherigar (5th year), finalist, "Magic Magnolia" – graphic novel
EKU joins efforts to close teaching qualification gap with free program for educators
Kentucky high school teachers have the opportunity to earn 35 hours of professional development this summer through the Kentucky Master Teacher of Personal Finance (KMTPF) program at no cost.
When Bill 132 was passed in 2018 requiring high school students to take a financial literacy course before graduation, many university faculty and staff across the state sprang into action. to make resources available to these high school teachers.
Created through a collaborative initiative between the Coalition for Financial Literacy in the Commonwealth (CFLC) and the Federal Reserve Bank of St. Louis, the CFLC includes representatives from Eastern Kentucky University, Morehead State University and the University of Kentucky.
"Financial literacy is a critical component of a student's success both in college and after graduation," said EKU President David McFaddin. "Through this collaboration, we can support this effort to ensure that all Kentucky students become financially literate and prepared to positively impact the economic growth of their communities. Thanks to our very own Dr. Cynthia Harter for having seen this problem on the horizon and to work to allow EKU to be part of the solution."
The first class for which it is a graduation requirement completes its second year of high school, putting the term into effect for the next two years. Because the mandate is unfunded, teachers and schools are looking for training and materials that meet Kentucky standards and are available at low cost or free of charge.
"The findings are important to the Appalachian business community because they underscore the need for more resources devoted to preparing teachers to teach financial concepts in order to spur economic development in the region," said Harter, director of the Center. economic education from EKU. "Through the multiplier effect of teacher education, those who invest more resources in financial literacy efforts and entrepreneurship education in schools can promote economic development for generations to come."
The KMTPF program is aligned with the Kentucky Financial Literacy Standards and uses research-based strategies, high-caliber resources, and strategic partnerships to engage educators with a variety of lessons and high-quality materials that can be delivered directly in class.
"The program has been designed through the collaboration of experienced experts in the field so that we can prepare teachers with the knowledge and tools necessary to meet the graduation requirement in this important content area," Harter said. "The financial literacy standards combined with this program provide a framework through which our students can learn to make more informed choices in life.
The professors and economic education specialists who will deliver the program have decades of experience training K-12 teachers in economic education and personal finance, Harter said. Investing these resources and expertise in teachers across the region will only benefit students and stimulate economic growth in the region.
Teachers who complete the program will earn 35 hours of professional development, earn the title "Kentucky Master Teacher of Personal Finance", be recognized at a virtual closing ceremony, and be listed on the EKU Center for KMTPF program website. Economic Education. Teachers will be able to list this marketable attribute on a resume, participate in presentation skills building opportunities, and become a participant in a professional learning network and community of master teachers. To be considered for the program, a teacher must hold a current Kentucky teaching license
To visit https://events.stlouisfed.org/event/4d21a1fd-00ac-42bc-9d4e-dc206c4e4f5b/regProcessStep1 to register for the 2022 program. The deadline to register is June 6.
For more information about the Coalition for Financial Literacy in the Commonwealth, contact one of the partners: [email protected], [email protected] or [email protected] For more information about the Federal Reserve Bank of St. Louis, contact [email protected]