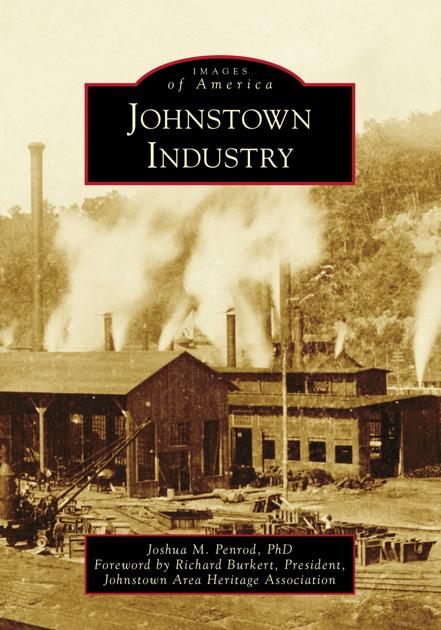 During his doctoral studies, Johnstown resident Joshua Penrod became fascinated by the city's industrial past and began researching the area's history, which he collected in his new book, "Images of America: Johnstown Industry."
"It's been a great journey to do this book and see the interest in it," he said.
Penrod is a 1992 graduate of Greater Johnstown School District who has had a life-long fascination with history and received his undergraduate degree in that discipline at Washington & Jefferson College in 1996.
His book looks at the various aspects of industry, such as the mills, mines and the railroad that used to be economic powerhouses in the region.
Penrod sampled photos from the Library of Congress, Johnstown Area Heritage Association, the University of Pittsburgh archives, the Hagley Museum and Library, and his personal collection.
The story begins with the earliest industrial companies and ther people employed by them and uses images to provide a pictorial story of the town with detailed captions including images of former businesses such as Cambria Iron and Johnson Steel.
"This has been several hundred hours between developing actual story and history of it and being able to tell it," Penrod said.
Undertaking this project was inspired by a conversation the author had several years ago.
Penrod said that, while out to dinner one evening, he and his parents began discussing the city's past and how his mother had grown up in the Woodvale neighborhood.
That was the seed planted in his mind.
During his doctoral study, he wanted to focus on industry, and while traveling Truman Boulevard in Franklin Borough he saw how little was left of the old sprawling mill that once covered such a large portion of that area.
Viewing the empty lots once occupied by colossal structures solidified his decision to pursue the project.
He approached Arcadia Publishing with the idea, and the company was on board.
Penrod said a driving force behind compiling this book was the desire to preserve what was left of the local industry as a tribute to the people who dedicated their lives to those companies and helped build not just this area but the country.
He said he spent many Saturdays researching, sorting photos and driving around to take his own pictures of landmarks, such as the Eliza Furnace in Vintondale.
"What I like about the book is it's not overly technical, and it provides a really good introduction to industrial history," Johnstown Area Heritage Association President and CEO Richard Burkert said.
He supplied the foreword for the publication, which details Johnstown's complex relationship with industrialization.
Burkert described the city as one of the "most remarkable industrial areas in the world" and commended Penrod for telling its story.
"It's a good introduction to industry in our area," he said.
Penrod's book can be purchased at the Chameleon Bookstore downtown, at JAHA, on Amazon and from the publisher at www.arcadiapublishing.com.
Joshua Byers is a reporter for The Tribune- Democrat. Follow him on Twitter @Journo_Josh.
Joshua Byers is a reporter for The Tribune-Democrat. He can be reached at 814-532-5054. Follow him on Twitter @Journo_Josh.