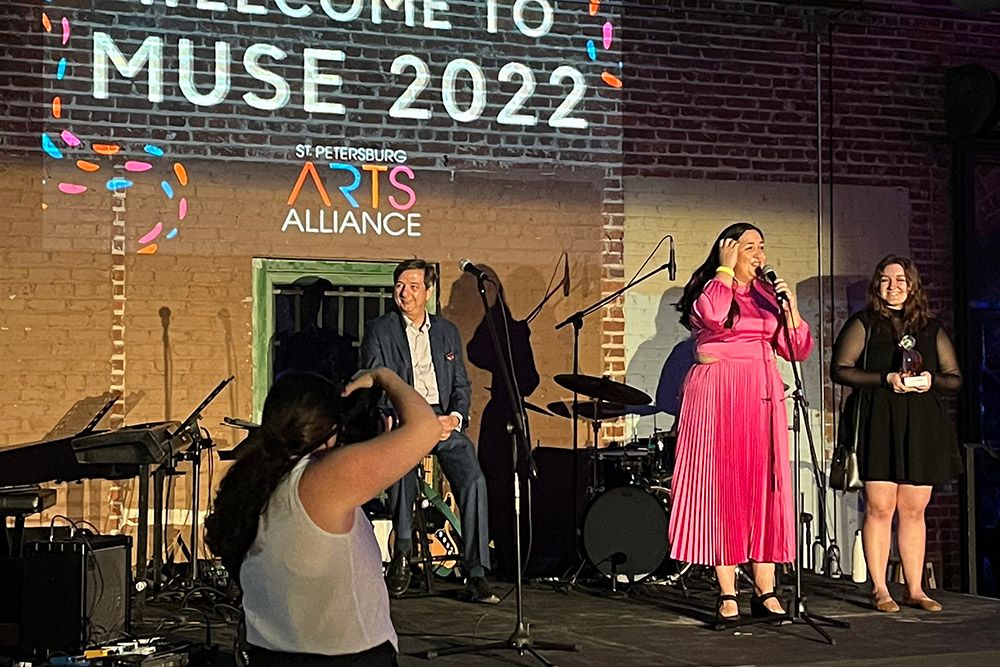 Jaime was one of four Eckerd College students in the Muse Awards audience at Muñoz's invitation. They were joined by Vice President of Academic Affairs and Dean of Faculty Suzan Harrison, Vice President of Strategy and Chief Operating Officer Kanika Tomalin, Theater Professor Jessica Thonen and President of Creative Arts Collegium and KC Wolfe Associate Professor of Creative Writing.
"As a discipline and a college, we are very proud of her and see this as further confirmation of the breadth of knowledge she brings to the classroom and to our community of scholars and artists," says Wolfe. .
The evening included dance, music, immersive art experiences and more. Jaime dreams of pursuing a career in curatorial communication and has bolstered his creative writing minor by taking an Intro to Creative Writing, an Intro to Creative Nonfiction, and a Lyrical Essay with Muñoz, as well as serving his four years as an editor with the Eckerd review literary anthology, where Muñoz serves as an academic advisor to the student staff. "She deserves all the credit for her hard work," says Jaime.
Muñoz notes that the award further encourages her to continue her work mentoring local writers, but also to expand her work in the literary community by creating free or very low-cost programs. Its goal is to showcase local talent and connect them with traveling national artists.
"There's an incredible community of writers here," Muñoz says, "and I hope to be a bridge for a lot of people."