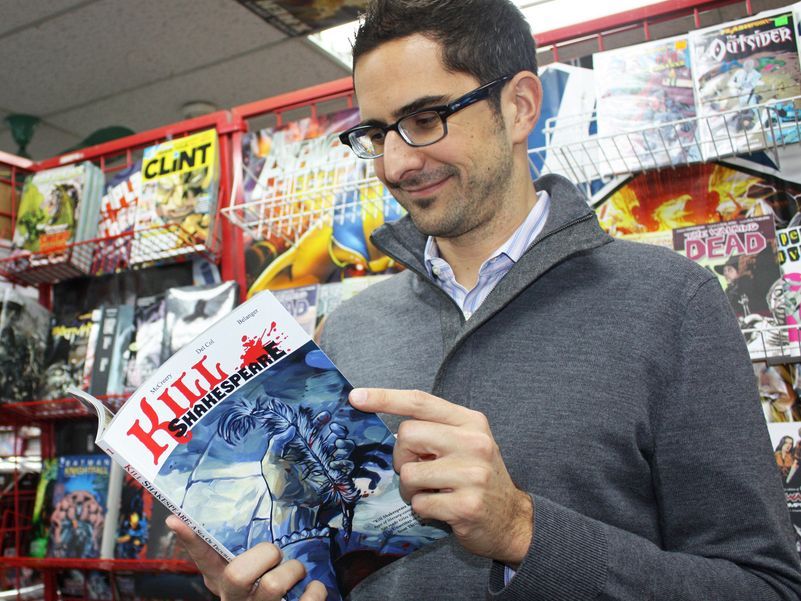 Comic medium used to present the problem of Chinese oppression of people in the Xinjiang region
Content of the article
A graphic novelist who applied his skills to produce a hard-hitting report on the persecution of Muslims in China has won the Pulitzer Prize for Illustrated Reporting and Commentary.
Content of the article
Timmins native Anthony Del Col was one of four people who collaborated on the production of a digital comic called "I Escaped a Chinese Internment Camp."
It tells the real-life story of Zumrat Dawut, a former Uyghur detainee who was forcibly sterilized while being held in a so-called "re-education camp" by Chinese authorities.
Dawut and her family eventually fled China via Pakistan and fled to the United States three years ago, where they now live.
Pulitzer judges awarded the prize to Del Col and his team, "For using graphic reporting and the medium of comics to tell a powerful yet intimate story of Chinese oppression of the Uyghurs, making the issue accessible to a wider audience."
The digital comic was published in December by a New York-based online publication called Insider.
Del Col, who grew up in Timmins and graduated from Roland Michener High School, is the play's author.
"'I escaped a Chinese internment camp' features a mother of three from China's Xinjiang region," said Del Col, who spoke to the Daily Press by phone from New York where he works and resides. now. "She was in prison because she was a Muslim."
Del Col collaborated with Fahmida Azim who was the artist, Josh Adams who was the creative art director, and Walt Hickey who was the editor.
Del Col and Hickey met Zumrat twice late last summer where she provided a graphic account of events in which she was allegedly strip searched, repeatedly beaten and ultimately subjected to forced sterilization.
Content of the article
"We put it in a comedic format because there have never been any images or photos released of what these places look like," Del Col explained. "And that's why we thought it would be great to tell a story in comic book form, because we can do representations of what those places are like, what they look like, and although we don't can't get you any pictures, here's a re-enactment of what happened.
"Over the past two-plus years with Insider, we've created non-fiction comics that dive deep into important topics."
Living in the United States, Del Col said there was a high awareness of China as a global power and substantial interest in its national policies and practices. He said he learned of reports of genocidal practices in China about two years ago and jumped at the chance to speak with someone from the Xinjiang region who had been detained.
"There are reports that between 1 and 3 million Uighurs have been forced into these re-education camps. Ultimately, the Chinese government is trying to eradicate an entire people. It is genocide.
Del Col said that over the past two years with Insider, some of the topics they've covered have occasionally fallen into the realm of pop culture.
While Del Col doesn't expect the Pulitzer's victory to cause Insider to walk away from these more sensitive topics altogether, he noted, "This is the first time The Insider has won a Pulitzer Prize and they are just completely energized by it and so on. it means that we will definitely do more political things.
Content of the article
"I think the most immediate side effect will be that we're going to do more impactful stories like this."
In addition to his critically acclaimed work with Insider, Del Col still produces graphic novels.
Del Col, who grew up in Porcupine, said he didn't lose his roots in Timmins and still has family there.
One of the last times he made a public appearance in Timmins was at a bookstore promoting his first graphic novel series, "Kill Shakespeare."
"I've been working in comics since 2010," said Del Col, adding that he has over a dozen titles under his belt.
His current series of graphic novels is called "The Death of Nancy Drew" which he says "caused a huge uproar when it was first announced 'two years ago' because people expected us to let's kill Nancy Drew on the 90th anniversary of her creation."
The last edition of this series should be published in the second week of June.